I'm excited to share my 4 Week Blogging BootCamp beginning January 23, 2018. Class size is limited so you'll want to register today.
Want to easily write fresh fun and informative blog posts?


I'll show you how during my new 4 week Blogging BootCamp.
January 23 – February 20, 2018

I'll show you how to…
. Overcome blogger's writer's block.
. Create posts writing 15 minutes a day.
. Take the challenge out of regularly coming up with fresh new ideas.
. Post to your blog or submit guest posts regularly.
. Get your message out to your ideal audience and have fun doing it!
. Develop a system for creating well written blog and social media posts.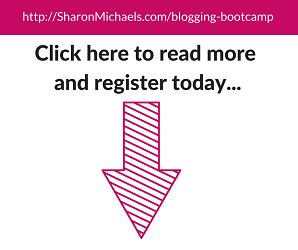 4 Week Blogging BootCamp with Sharon Michaels